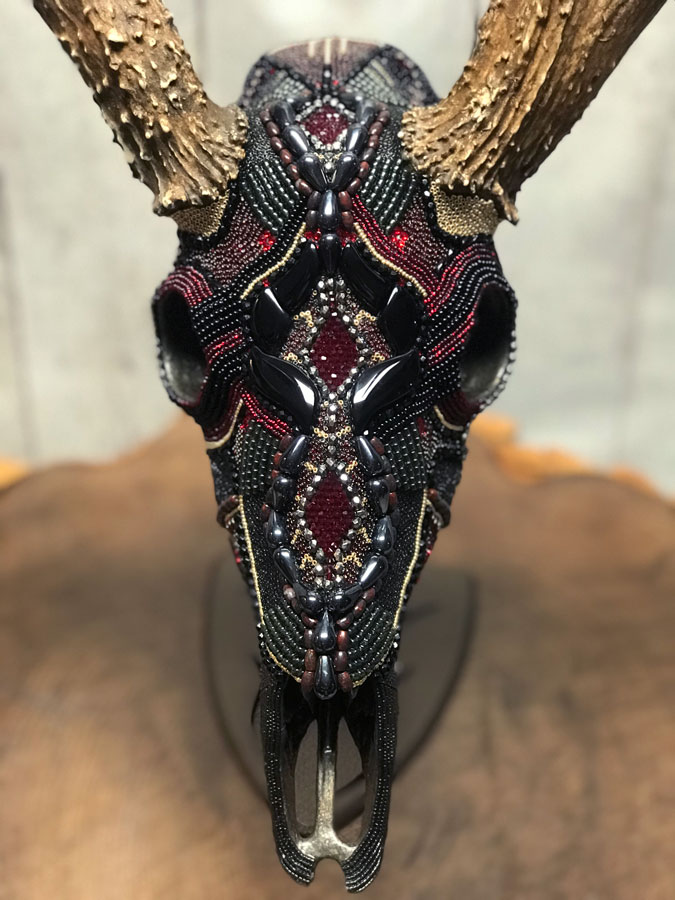 Thor is an outstanding non-typical whitetail deer beaded skull art piece. Are you a fan of the Old Norse red-headed god or the golden-haired Thor of Marvel® fame? Either way he speaks of physical and moral strength and power.
At the center of this beaded skull art design are three diamond shapes made of tiny Siam Swarovski® crystals surrounded by Black Onyx fans and teardrops. This large focal center piece is outlined by brecciated jasper and fire-polished faceted jet-black glass beads. Giving the eyes an aura of fierceness are ruby red and opaque black glass beads. And small groups of light Siam flat back, Swarovski® crystal rhinestone called Xirius add unexpected flashes of red. Theses dazzling crystals are named after Sirius, the brightest star in the sky, fitting perfectly with the theme of this majestic beaded skull art piece.
Continue reading below to see the making of Thor.
The Making of "Thor", a whitetail deer beaded skull mount